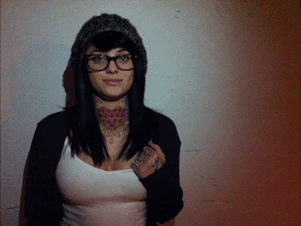 Hope all of our emo porn fans are enjoying an amazing Labor Day weekend (at least for those of you in the USA) – and to celebrate such a holiday we're bringing you this lovely GIF – Just some emo/scene girl with a ton of tattoos flashing her left tit, cha-ching! 🙂 But seriously, what kind of girl gets a tattoo on her boobs? The kind we'd like to marry, that's who!
Oh yeah, and apparently she's kind of famous? …or something? We did a little digging around and also found this video featuring her and another scene chick rolling all over each other. If you guys know more, please respond by posting a comment!
PS: Emo&SceneGirls is about to celebrate our 3-year anniversary coming up very soon! We're still trying to figure out how to celebrate, but if you have anything you'd like to see, please contact us!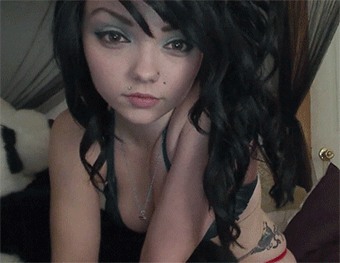 Happy Friday to all of you emo loving maniacs out there! It's currently 12:00pm here on the East Coast of the US and we're just getting the day started and about to head out for some lunch. But before we do that, we needed to get some "appetizers" going so we wanted to post this emo porn girl gif for you real quick! We hope it will hold you over until we get to the main course updates later tonight and this entire week! This particular emo girl doesn't even look real, she's almost too cute and perky. Reminds us of an emo/scene barbie doll or something. Let us know what you think by rating her!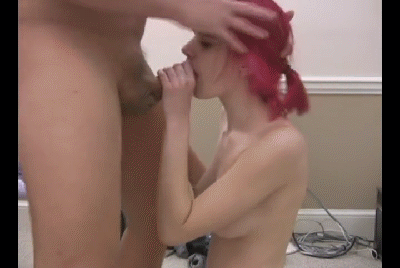 It's been a while since we've posted an emo porn GIF so here's a little something to hold you over for the time being! If you're into emo/scene chicks with bright pink hair giving blowjobs well then I guess today is your lucky day! If you want to see the full emo porn video just go ahead and click here! 🙂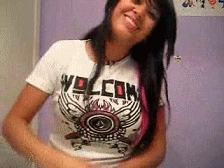 Thanks to user "Misty Midnight" for submitting this extremely sexy emo porn gif. Next time send us the whole damn movie! Remember, if you'd like to submit your images – please visit this page. Show Misty what you think by rating below!