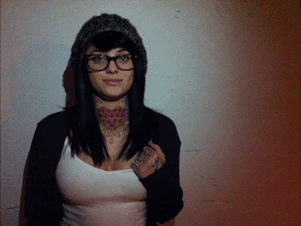 Hope all of our emo porn fans are enjoying an amazing Labor Day weekend (at least for those of you in the USA) – and to celebrate such a holiday we're bringing you this lovely GIF – Just some emo/scene girl with a ton of tattoos flashing her left tit, cha-ching! 🙂 But seriously, what kind of girl gets a tattoo on her boobs? The kind we'd like to marry, that's who!
Oh yeah, and apparently she's kind of famous? …or something? We did a little digging around and also found this video featuring her and another scene chick rolling all over each other. If you guys know more, please respond by posting a comment!
PS: Emo&SceneGirls is about to celebrate our 3-year anniversary coming up very soon! We're still trying to figure out how to celebrate, but if you have anything you'd like to see, please contact us!
Emo Porn Video + Gif

,
Leave a Reply