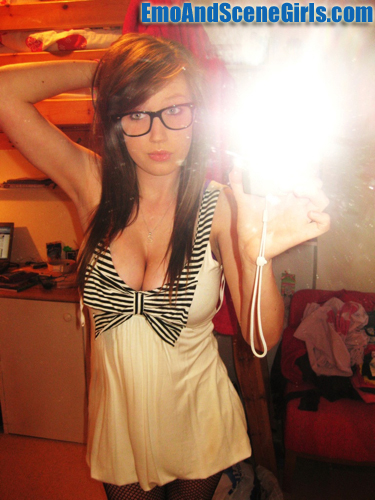 We got a nice email submission this weekend from a girl that simply goes by Emo Slut and we think that's a pretty fucking awesome name! So, thank you for submitting the pic, Emo Slut… because you definitely have one of the nicest set of tits we've posted since we first started this site!
PS: The flash on your camera is bright as hell! It's ok though, we still love you lol. 🙂
Emo Girls – remember to keep those submissions coming by clicking here!
Emo Slut

,
3 Responses to "Emo Slut"
1. Josh Says:
January 17th, 2011 at 12:30 pm

Wooooow I agree hottest girl on this site so far! I am fapping furiously for the next six hours straight.

2. BOB Says:
January 17th, 2011 at 12:31 pm

i would jizz on those glasses sooooo much she's be more blind than stevie wonder

3. this guy. Says:
February 1st, 2011 at 6:26 am

marry me??
Leave a Reply